I read a quote this afternoon from best-selling suspense novelist Scott Turow that addressed a concern I've expressed more than once during this baseball postseason. Turow wrote, "It's character-building, when the Cubs stomp on your heart, and you have to put it back in your chest," he says. "What will it be like for all of us not to live with the religion of suffering?" My question exactly, "What will Cubs' fans do now?
The nation is buzzing today with the news of the Chicago Cubs, the perennial bottom-feeders of the National League, emerging last night as the champions of the 2016 Major League Baseball season. It's a story with a million sub-plots, whether it be about the Cubs' fans who died without ever seeing their beloved Cubbies in a World Series or the ex-Cubs who got their teams oh-so-close while always coming up just short of victory: Phil Cavaretta, Ernie Banks, Ron Santo, Fergie Jenkins, Ryne Sandburg, etc. And don't forget the goats, Leon Durham, Steve Bartman and the goat. The actual goat who was barred from entering Wrigley Field with his owner during the 1945 World Series. The Cubs' fans conveniently chose that goat and his owner's anger at not being allowed to bring him into the stadium as the reasons for all the Cubs' failures over the last 71 years. Of course, it's ridiculous but baseball fans are among the most superstitious in all of sports . . . if not THE most superstitious. I should know. I was once as superstitious as all those crazy Cubs' fans. For whatever reason, it just comes naturally to the game of baseball and its fans.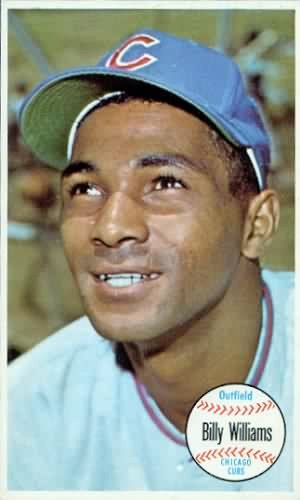 I played ball throughout my childhood and into high school. I remember trying out for my high school baseball team. I did not really believe I could make the team but I loved the game so much, I had to try. I had this old button down, dark blue shirt I used to wear under my t-shirt. When I miraculously made the team and we started winning, I had to wear that shirt for every game. I could not play without it. It was everything my mother could do to even get me to allow her to wash it.
I began rooting for the Pirates in the 1971 World Series and they have remained my first team but I have lent my support and good will to other teams through the years as well. Despite the fact that some fans think this is sacrilege, I do not. I tend to believe in rooting for individuals, people instead of mascots, ideas instead of colors. In my 45 years of fandom, I have rooted for the '72 Tigers, '73 Mets, '78 Red Sox, '83 Orioles, '85 Royals, '86 Red Sox and a variety of Twins, Giants, Dodgers teams. It must also be stated that ANY TEAM that ever played against the New York Yankees was my favorite team for the duration of that game. My brother raised me to root against the New York Yankees at all costs and I thank him for passing that wisdom on to me.
I'm in my fifties now and sports barely hold one-tenth of the importance that they once did for me. So much of it seems silly and overdone now. The money, the manufactured drama, the over-produced marketing plans, all succeed in making me less engaged instead of more. But for many years, I poured a great deal of passion and emotion into my love for the game of baseball. As I mentioned earlier, no matter what team I was rooting for, I was ALWAYS rooting against the New York Yankees, the team that represents Corporate America in the sports world. In the 45 years that I've considered myself a baseball fan, the New York Yankees have been in the World Series eleven times and have won it seven times. My Pirates lost in heart-breaking and/or frustrating fashion in 1972, 1990, 1991, 1992, 2014, 2015. In fact, the Pirates actually had a losing record for twenty consecutive seasons from 1993 – 2012. I know what losing means and what it feels like to root for losers and underdogs. I've done it all my life.
There is something that happens to a fan who roots for a losing team over a period of many years. It's a little like a marriage, if you can stay together through the difficult times, the heartbreak, the disappointment, the anger, then you can usually come out the other side with a loyalty and a devotion that can only be forged through the fires of adversity. In the case of sports fans, you wear that loyalty on your sleeve, you want people to know that you still root for your team no matter how many times they let you down. You want people to know that no matter what, you stick with your team. You are dependable. You are loyal. I'm not a psychologist but there is obviously some Freudian shit going on there. Somehow, we let our image of ourselves get tied up in our devotion to our sports teams.
If you're of a certain age, you'll no doubt remember that your family was either a Ford family or a Chevrolet family. Our dads put great pride in which car company received their loyalty. Seems crazy now but I know your father was the same way. My dad was a Chevy/GM guy. I knew others who would never buy anything but a Ford, or a Buick, or a Pontiac, etc. It obviously has something to do with a sense of belonging, being part of something bigger than ourselves.
If you want me to get really psychological on you, one could hypothesize that in times like these when the country is so divided culturally and politically, once again, we're looking for a way to connect with a group or an idea bigger than ourselves, One where we're all in  it together and our one goal is the same – winning.
Which brings us back to where we started. What will Cubs' fan do now? The goal they've struggled towards for 108 years has finally been achieved. They are the champions of the baseball world. The lovable losers are now the cream of the crop. Cubs players, management, and fans all feel euphoric today and they should. I congratulate them on their hard-fought victory and on their long, relentless struggle to achieve that victory. My only concern is, what happens now to the Cubs who are no longer the underdogs we love to root for but have now been transformed into the team that everyone wants to beat?
Epilogue:
I am thinking of three Cubs' fans today more than any others.
Mr. Cub, the man who wisely preached "patience."
Speaking of patience, this guy had to wait too long in more ways than one! The Baseball HOF should remain forever ashamed.
Six years after his passing, Ron Santo has achieved both HOF and a World Championship for his beloved Cubbies.
Finally, I first heard this song many years ago. Steve Goodman was a Chicago blues man who wrote songs like "The City of New Orleans" and this one unique song for which he will forever be remembered. Goodman was scheduled to sing the National Anthem at the opening of the 1984 playoffs between the Cubs and the Padres. Sadly, he died of cancer just days before the series began. I hope somewhere Steve Goodman's soul, spirit, or whatever you want to call it is out there and I hope he can enjoy and appreciate what his beloved Cubbies have finally accomplished.
Tags: Billy Williams, Chicago Cubs, Don Kessinger, Ernie Banks, Ferguson Jenkins, Leon Durham, Phil Cavaretta, Ron Santo, Ryne Sandburg, Scott Turow, Steve Bartman, Steve Goodman, Wrigley Field