The answer to the above question is, "No, he can't." However, Heidi Ewing and Rachel Grady apparently can. They are listed as the directors of the PBS American Masters special from last night entitled, Norman Lear: Just Another Version of Myself. I just finished watching the program and it was, surprisingly, a disappointment. I say surprisingly because I'm someone who not only has a favorable opinion of Mr. Lear and his accomplishments but an active curiosity to know more about him. I tend to enjoy documentaries, particularly those about people in entertainment, politics, and/or sports whom I admire. I seek out such programs to learn more about the subject and, in some ways, to celebrate them. I do not watch a documentary on Norman Lear, or anyone else, because I'm interested in the director's cinematic aspirations or bag of tricks. Sadly, that's what we get from Norman Lear: Just Another Version of Myself.
Watching this documentary, you may get the impression your watching an entry in the "Why I Want To Be Ingmar Bergman" contest. The deep, dark silences, the staged shots in silhouette that are supposed to represent the boyish version of Norman Lear, the numerous shots that are related to . . . nothing! This documentary is an exercise in frustration. I would assume Norman Lear approved the final product but I sure hope not. Pure and simple, the final product is a practice in poor storytelling.
I admit that I am a strange combination of traditionalist and iconoclast. I like questioning the establishment and authority but I prefer it to be done in an organized, articulate fashion. Norman Lear: Just Another Version of Myself, was disjointed, confusing and incomplete. There is a lot of interviewing Mr. Lear that goes on within the film. That's okay except that it felt to me that perhaps that should be a different film. You could certainly do a piece entitled, quite simply, "A Conversation with Norman Lear." However, if you're doing a documentary about his life and about his work then you need more interviews from his friends, family, and associates. Those people were all present in Norman Lear: Just Another Version of Myself but in disproportionate balance to Mr. Lear and the filmmakers artsy heavy-handedness.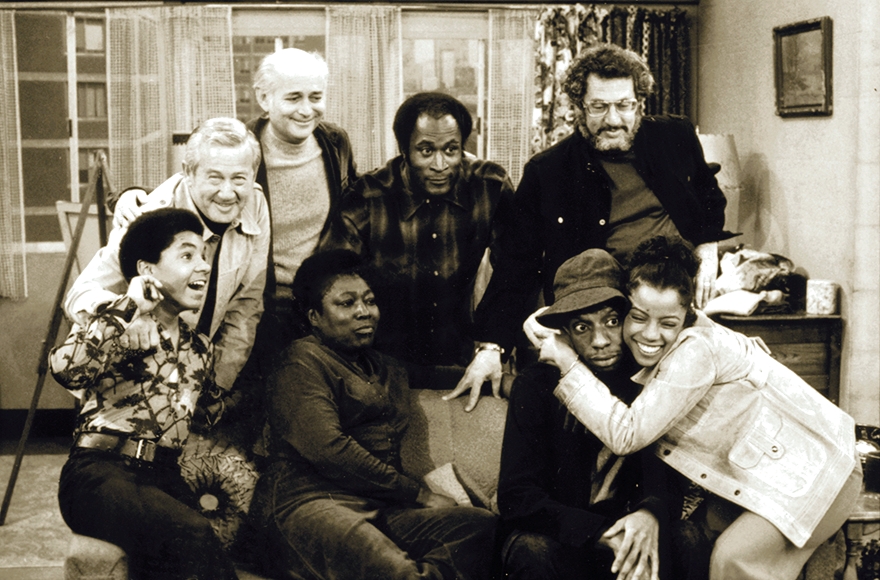 For example, I was fascinated by the interview with John Amos and the discussion of the Black Panthers and what the African American community's opinion was of Good Times. However, just as the filmmakers were getting into this question, we jumped to The Jeffersons as an explanation of how Mr. Lear responded to critics of Good Times. That's all well and good but they seemed to cut off the Good Times discussion before they had clearly defined the issues and complaints. Did viewers complain about it or just the actors? Did Lear agree or disagree with the complaints? Did Amos leave the show because of it? What was Esther Rolle's opinion of the show after it was over? They show a clip that seems to indicate she felt it was a stereotyped version of the truth but, if so, why did she do it? The intercutting of current interviews with older interviews of those individuals who are now deceased was helpful but like almost everything in this film, handled in a less than coherent fashion.
By the way, the only Lear shows that were really discussed in ANY fashion were All in the Family, Maude, Good Times, and The Jeffersons. There was little or no discussion of Fernwood Tonight, Mary Hartman, Mary Hartman, One Day At A Time, or Sanford and Son.
The entire first 20 years of Lear's career were covered in a sequence that lasted roughly two minutes and forty-five seconds. You can certainly argue that making a documentary can be similar to making a narrative film in the sense that you must tell a certain story, a piece of the whole instead of trying to cover everything. However true that may be, when you sit through as much empty, wasted time as you do in this film, you wonder about all the other information that could have been covered by losing what seemed like 20 minutes of a little kid walking around in shadows wearing Norman Lear's signature white cap. In the end it felt like we received 30 minutes of information in 90 minutes of screen time.
Norman Lear is probably one of the most fascinating men in American popular culture in the second half of the twentieth century. He is certainly one of the most important and influential artists in the medium of TV, film, and storytelling. Sadly, this story doesn't seem to do his story justice.
Tags: "Good Times", "The Jeffersons", All in the Family, Amy Poehler, Carl Reiner, Carroll O'Connor, Ed Simmons, Esther Rolle, George Clooney, Heidi Ewing, Ingmar Bergman, Jimmie Walker, John Amos, Martin & Lewis, Mel Brooks, Norman Lear, PBS, PBS American Masters, Phil Rosenthal, Rachel Grady, Rob Reiner