Ron Glass died over the Thanksgiving holiday weekend at the age of 71. He was best known for his luminous portrayal of Det. Sgt. Ron Harris of the 12th Precinct on the classic 1970s/1980s ABC sitcom, Barney Miller. He was also known for his role in the Sci-fi cult hit Firefly as Shepherd Book.
Glass was born in Evansville, Indiana and graduated from the University of Evansville with a double major in drama and literature. He made his professional theatrical debut at the famed Guthrie Theater in Minneapolis, Minnesota. In the early 1970s he made the move to Hollywood and was soon appearing in hit shows such as All in the Family, Hawaii Five-O, and Maude.
Producer Danny Arnold cast him as Det. Ron Harris in the second version of his pilot for what would become Barney Miller. In fact, Ron Glass would be one of only three cast members who were a part of the Barney Miller ensemble continuously from the start until the end of the eight season run. The other two were Hal Linden as Barney Miller and Max Gail as Stan Wojciehowicz.
Ron Harris was a pioneering African American character for 1970s television. He was intelligent, sophisticated, articulate, and real. He expressed anger, joy, frustration, and hope in equal measure. He was a strong character as opposed to a caricature. Watching Barney Miller today it would be difficult to imagine anyone else besides Glass infusing the same energy and nuance to Ron Harris. His formal training was the foundation of his art and he could perform Shakespeare as easily as a Norman Lear sitcom but he will forever be remembered as a member of the 12th Precinct in Greenwich Village.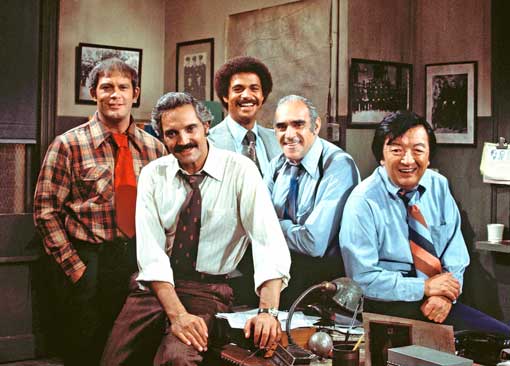 Barney Miller was a character study of a diverse group of officers in the middle of a diverse neighborhood in what is probably the most diverse city in the world. The show focused on the interaction between the officers as much as their interaction with the criminals and victims that passed through the station house every week. It provided a stage for comedic lunacy as well as social commentary.
In a Season Five episode entitled "The Harris Incident," Det. Harris is apprehending a fleeing criminal on the streets of New York when two uniform officers come upon the scene. Assuming Harris is the criminal, they fire upon him. Back at the precinct, Harris is enraged at the fact that he has nearly been killed due to the racial profiling of fellow NYPD officers. Capt. Miller tries to calm Harris down and tells him that the inquiry needs to go through the proper channels to be resolved. Harris storms out of the office to take an early lunch. The scene leaves his fellow officers shaken. As originally written, Harris was supposed to return to the squad room and apologize to his fellow officers for his outburst. During the filming, Ron Glass asked producer Danny Arnold why Harris was apologizing? Glass told Danny Arnold that personally, he would not apologize for Harris' reaction. Danny Arnold asked him "What WOULD you do?" The discussion that ensued led to this more complex resolution.
The above clip illustrates perfectly Barney Miller's ability to make important and insightful social observations while still making the storytelling funny. It's a more dangerous road to tread but few ever did it better than Danny Arnold and the cast and crew of Barney Miller.
Glass was a private and gentle man. There were only a few people who knew he was in failing health over the last few months. USA Today quoted his longtime agent and friend Jeffrey Leavitt: "Ron was a private, gentle and caring man. He was an absolute delight to watch on screen. Words cannot adequately express my sorrow."
The members of the Barney Miller cast, as well and the numerous guest stars who appeared on the show, all remembered Ron Glass as a very talented and very generous soul. It's a gift when an actor can be remembered for a character so richly layered as that of Det. Sgt. Ron N. Harris. It's only fair since he so graciously shared so many of his gifts with us.
***Ron Glass was also actively involved in his community. Please read this inspiring remembrance of the actor at The Wooten Center homepage, a group that helps inner city youths get an education and become positive role models in their community. Ron Glass volunteered and assisted the center for over 20 years. http://www.wootencenter.org/ronglass


Continue reading this article ›
Tags: All in the Family, Barney Miller, Danny Arnold, Firefly, Hal Linden, Max Gail, Ron Glass, Steve Landesberg